Product attachments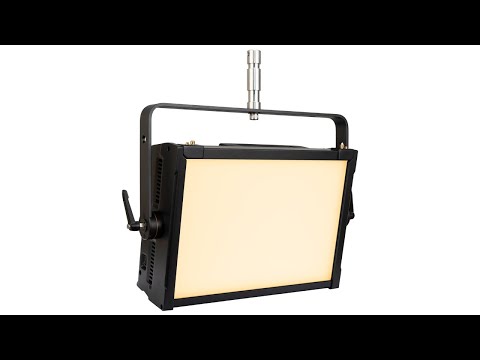 Product Details
Compact professional high output (640 C W / W W LEDs with 260 W total power) 19,000 lumen soft-light panel with variable white temperature adjustment and possible battery operation. For TV studios and outdoor applications (in dry environments).
Main features:
Tunable white 3000 - 5600 K with precise CCT-presets
Excellent photometric specifications: Ra> 98, TLCI > 99, …
Intelligent design for multifunctional use:

Photo & TV-studio: "click-on" external 110 – 240 V Power supply with V-LOCK
TV, film, reporter, … : by using 1 or 2 optional standard V-LOCK batteries (14.8 V and 26 V compatible)

Easily exchangeable frost filters + possibility to add extra (color) filter sheets
Different optional accessories: 8 leaf barndoor, manual yoke, intensifier, softbox, , …
Beam angle 115°
Dimmer electronics with 4 dimmer curves, dimmer speed control
Flicker free dimming down to 0% with refresh rates between 900 Hz and 25 kHz
Four dimmer curves: linear, square, inverse square, S-curve
Easy stand-alone use: 3 rotary knobs for dimming, CCT-presets & seamless CCT-adjustment
Full DMX control with different modes and control channel
Wireless DMX (optional WTR dongle) or cabled XLR 3/5-pin IN/OUT
RDM-functionality for remote setting and monitoring
Very low noise temperature-controlled fan cooling
Lock function to avoid unwanted altering of the settings
Default factory reset + user settings can be saved/loaded
2 x 16 character OLED display with touch buttons for easy setup
Optional manual studio yoke is available.
powerCON TRUE1 compatible IN/OUT for easy daisy chaining.
The included 28 mm TV spigot is used to easily hang the projector (possibly in combination with the optional "TV-SPIGOT RECEIVER").
| | |
| --- | --- |
| General: Dimensions (cm) | 56.2 x 36.8 x 19.5 |
| General: Weight ( kg) | 9.7 |
| General: Power input | AC 100 - 240V, 50/60 Hz, Battery |
| General: Works on battery | yes |
| General: Energy Label | No |
| General: Power consumption W | 290 |
| General: Color | black |
| General: Display | OLED |
| General: Fixation | optional omega bracket |
| General: IP rating | indoor |
| Control: Modes | standalone fixed, manual, DMX |
| Control: Protocol | DMX, Wireless DMX, RDM |
| Control: programmable | No |
| Control: upgradable software | Yes |
| Control: minimum DMX channels | N/A |
| Control: maximum DMX channels | 7 |
| Light: lamp socket | none |
| Light: Lux | 401 @ 5 m (beam 115°) |
| Light: lamp | LED |
| Light: min. color temperature (K) | 3000 |
| Light: max. color temperature (K) | 5600 |
| Light: CRI | 98 |
| Light: colors | White, Cold white, Warm white |
| Light: mix colors | Yes |
| Light: functions | manual frost |
| Light: min. beam angle (°) | 115 |
| Light: max. beam angle (°) | 115 |
| Light: max. refresh rate ( kHz) | 25 |
| Connections: input | 3-pin XLR, 5-pin XLR, wireless DMX optional, usb, rdm, PowerCon® TRUE1 or compatible |
| Connections: output | 3-pin XLR, 5-pin XLR, rdm, PowerCon® TRUE1 or compatible |